Dear all, I was hoping to show a build i have been working on.
Was thinking about 20 Druid/19 cleric and 1 monk... thoughts? the AB buffs will work longer and be harder to dispel... the reason for 6 levels monk was for the extra speed and imp knockdown. tough choice.
thoughts would be welcome.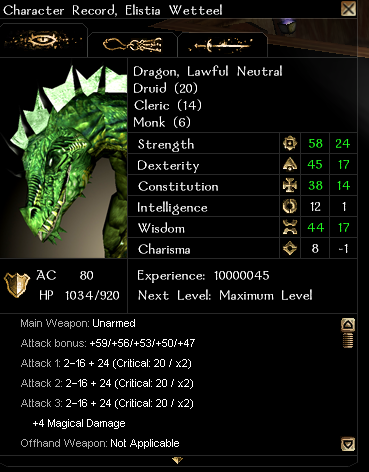 Dune Island Warrior





Posts

: 17


Join date

: 2014-11-04


Age

: 34


Location

: Buckinghamshire, England



Keep in mind you only need 18 druid levels to get dragon shape, key thing is to take that 18th level once you have 30+ wis and you are about to get a feat to pick.
Also a dragon is cumbersome to move around with indoors, especially in dungeons/through doorways etc etc. since your non-dragon AB will be very crappy even with buffs could be challenging to survive certain areas.
Also would need some good gear to put on it as not everything you're wearing will carry over once you shift into a dragon
Actually you can do it with 14 levels of druid, just need greater wildshape x6 or something like that. As you said, dragon is cumbersome which is why I went 20 levels of druid for the elder elemental shapes when doing that, if you take staff proficiency imp crit the air shape is quite good. Remembering to take weapon finesse aswell.
Dune Island Warrior





Posts

: 17


Join date

: 2014-11-04


Age

: 34


Location

: Buckinghamshire, England



Druid gets greater wildshape x6 at lvl 18
Just technicality

Wild Shape x 6/day or Greater Wild Shape 4. Minimum of either 18 druid or 10 shifter.
Getting dispel in a fight, which is far too often it seems, is discouraging for me. So i'll wait till you play this build and tell us how well it performs. I might make a variation of this too if its fun

I used to play a shifter long ago in a pvp server. A manticore spamming spikes on lvl 20 server. And an epic kobold commando (with HIPS!) on a lvl 40 one.



Posts

: 4


Join date

: 2014-12-15



Shifter class is disabled on nexus as it was causing the server to crash

Since last patch dragons got good DR would be interesting to see how it will fare on wb past and bc
Claw is a deathtrap but still may be interesting
side note, you do not need improved knockdown on a dragon. what improved knockdown does is attempt to knock an opponent down who is one size larger than you, and nothing is bigger than a dragon.
You could go with your original druid 20/cleric 19/monk 1 but take note that you would need to grab knockdown as a feat.


Similar topics
---
Permissions in this forum:
You
cannot
reply to topics in this forum